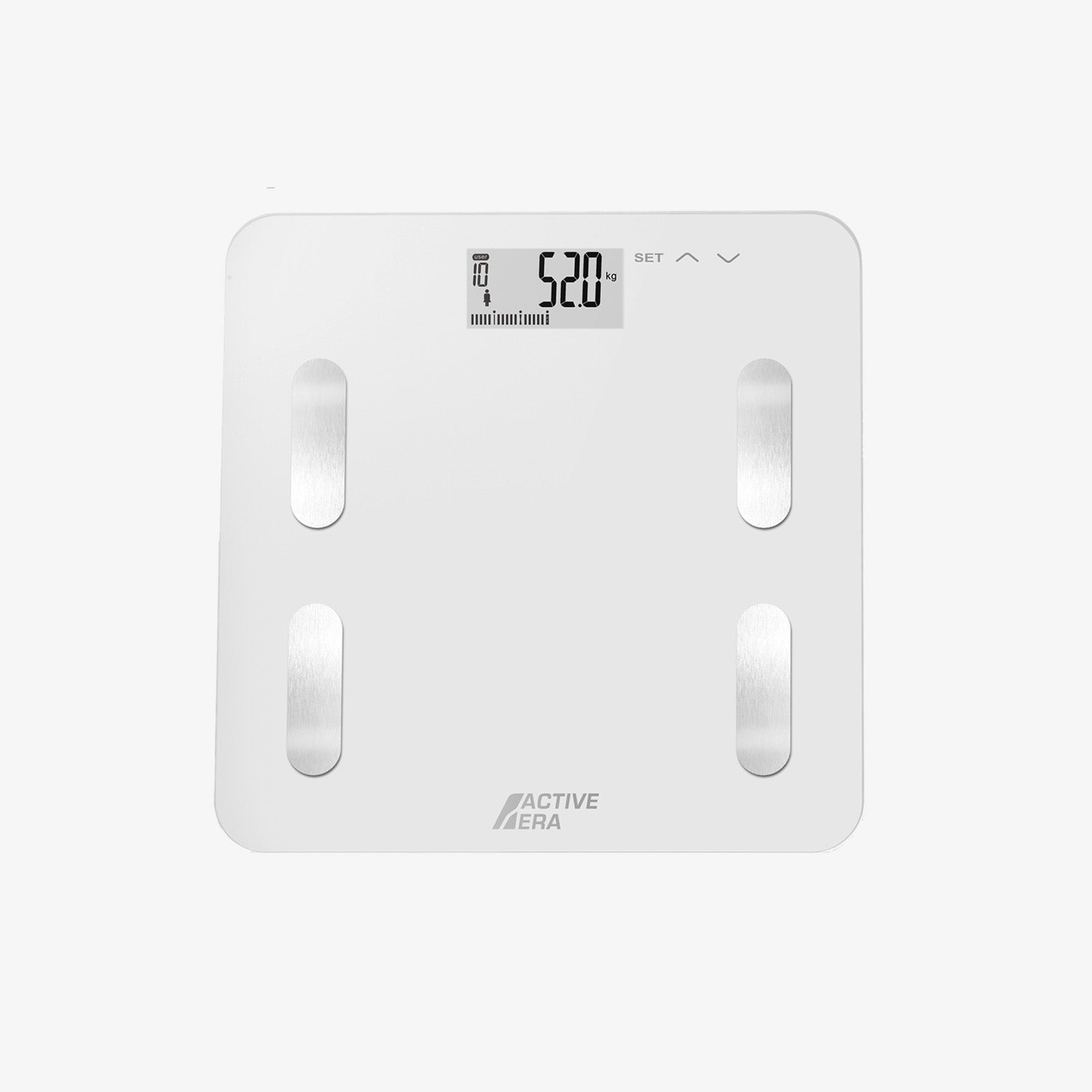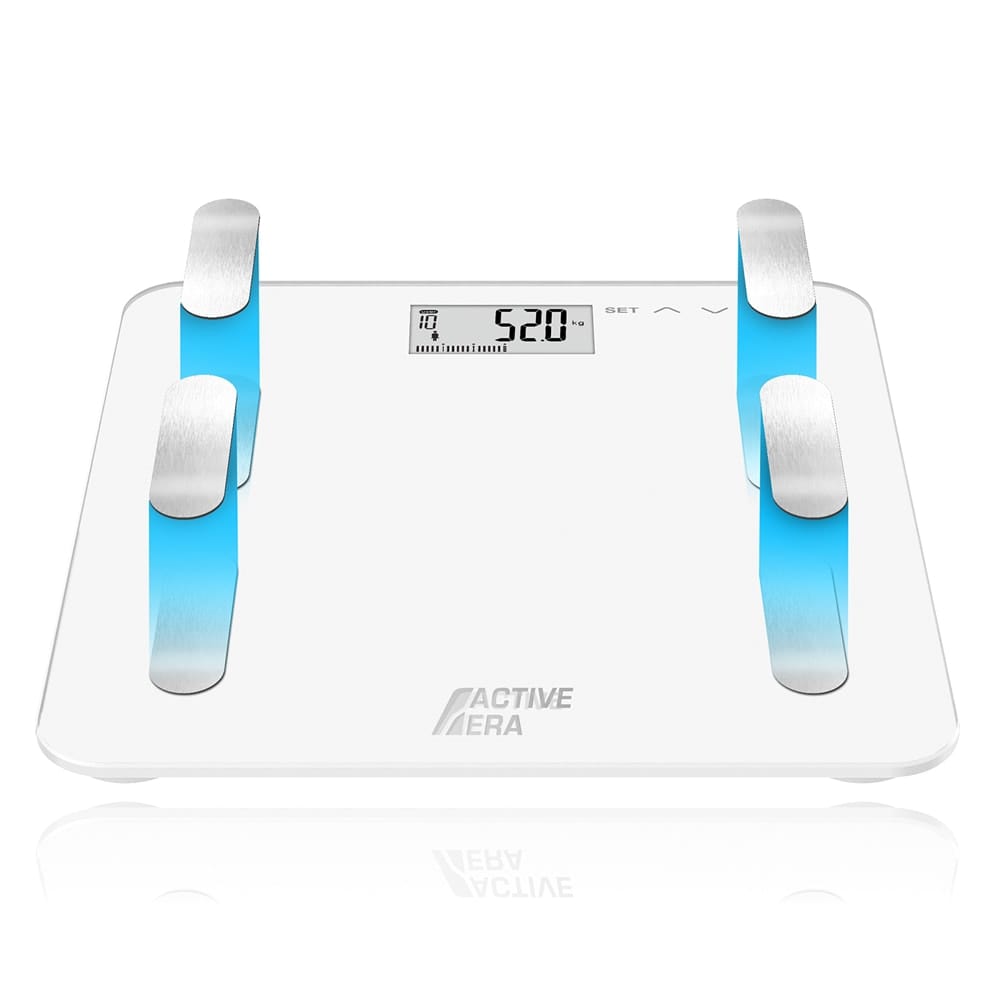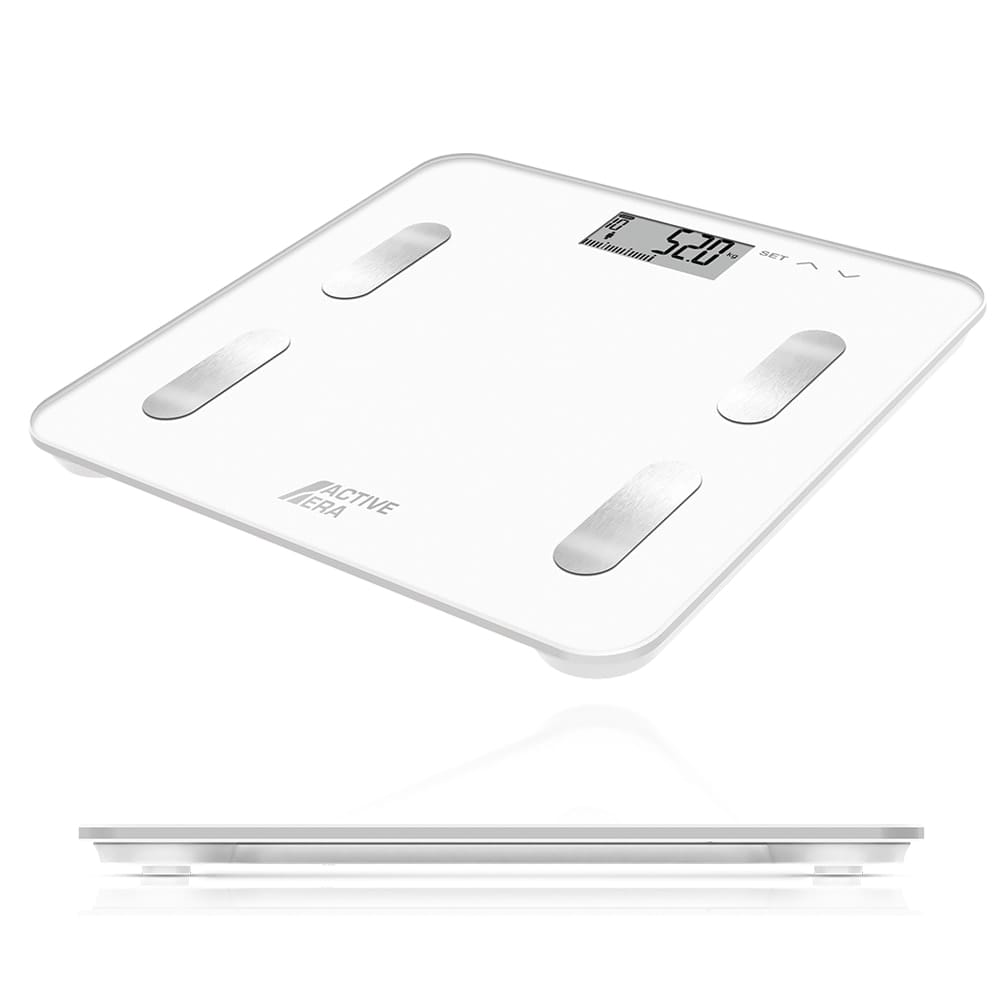 Digital Bathroom Scales - White
Measure and track your calories, body fat and muscle mass to stay on top of your fitness goals with these Digital Bathroom Scales. They feature high-precision sensors to provide accurate measurements in seconds.
These ultra-slim Digital Bathroom Scales feature high-precision weighing sensors that deliver unparalleled accuracy in stone, kilograms or pounds. With 10 user profiles, they are perfect for use by the whole family. Using advanced bioelectrical impedance (BIA), they safely and accurately measure features such as body fat, muscle mass, BMI and more. A large platform ensures weight is evenly distributed across the surface, and a 6mm tempered glass structure provides a durable and sleek design to suit any home, bathroom or gym.
Maximum Accuracy:

 

The scales' high-precision weight measurement sensors provide accurate readings in seconds with a 0.1kg accuracy.
LCD Display:

 

The large and back-lit LCD display makes readings super easy to read.
Calorie Intake Calculator:

 

Apart from measuring your weight, body mass and other features, these scales also have a calorie intake calculator making suggestions for your calorie intake.
Perfect for the Whole Family:

 

Create up to 10 user profiles and switch between them as you please, perfect for the entire family.
Safety Features:

 

The scales turn on and off automatically as you step on and off, and feature overload protection for peace of mind.
Weight

1.5 kg

Material

Glass/ABS

Accuracy

100 g

Units Measured

kg/lb/st

Min Weight

6 kg

Max Weight

180 kg / 400 lbs / 28 st

LCD Display

Yes

Overload Protection

Yes

Auto On Off Function

Yes

Battery Type

2 x AAA

BMI

Yes

Body Fat

Yes

Muscle Mass

Yes

Bone Mass

Yes

Body Water

Yes

Dimensions

30 x 30 x 1.5 cm

Model

BS-02W-EU

Batteries Included

Yes

Heart Rate

No

Heart Index

No

Body Balance

No

Skeletal Muscle

No

Visceral Fat

No

Protein

No

BMR

No

Metabolic Age

No

Free Body Weight

No

Subcutaneous Fat

No

Athlete Mode

No

Baby Mode

No

Apple Health Google Fit

No

Fitbit

No

Feet

TPU
Compare with similar items
Weight

1.5 kg

Material

Glass/ABS

Accuracy

100 g

Units Measured

kg/lb/st

Min Weight

6 kg

Max Weight

180 kg / 400 lbs / 28 st

LCD Display

Yes

Overload Protection

Yes

Auto On_Off Function

Yes

Battery Type

2 x AAA

BMI

Yes

Body Fat

Yes

Muscle Mass

Yes

Bone Mass

Yes

Body Water

Yes

Dimensions

30 x 30 x 1.5 cm

Model

BS-02W-EU

Batteries Included

Yes

Heart Rate

No

Heart Index

No

Body Balance

No

Skeletal Muscle

No

Visceral Fat

No

Protein

No

BMR

No

Metabolic Age

No

Free Body Weight

No

Subcutaneous Fat

No

Athlete Mode

No

Baby Mode

No

Apple health_google_fit

No

Fitbit

No

Feet

TPU
Weight

1.52 kg

Material

glass/ABS

Accuracy

100 g

Units Measured

kg/lb/st

Min Weight

6 kg

Max Weight

180 kg / 400 lbs / 28 st

LCD Display

Yes

Overload Protection

Yes

Auto On_Off Function

Yes

Battery Type

2 x AAA

BMI

No

Body Fat

No

Muscle Mass

No

Bone Mass

No

Body Water

No

Dimensions

28 x 28 x 2.2 cm

Model

BS-01-EU

Batteries Included

Yes

Heart Rate

No

Heart Index

No

Body Balance

No

Skeletal Muscle

No

Visceral Fat

No

Protein

No

BMR

No

Metabolic Age

No

Free Body Weight

No

Subcutaneous Fat

No

Athlete Mode

No

Baby Mode

No

Apple health_google_fit

No

Fitbit

No

Feet

Silicone
Material

glass/ABS

Accuracy

100 g

Units Measured

kg/lb/st

Min Weight

6 kg

Max Weight

180 kg / 400 lbs / 28 st

LCD Display

Yes

Overload Protection

Yes

Auto On_Off Function

Yes

Battery Type

AAA x 2

BMI

No

Body Fat

No

Muscle Mass

No

Bone Mass

No

Body Water

No

Dimensions

26 x 26 x 1.8 cm

Model

BS-03W-EU

Batteries Included

Yes

Heart Rate

No

Heart Index

No

Body Balance

No

Skeletal Muscle

No

Visceral Fat

No

Protein

No

BMR

No

Metabolic Age

No

Free Body Weight

No

Subcutaneous Fat

No

Athlete Mode

No

Baby Mode

No

Apple health_google_fit

No

Fitbit

No

Feet

TPU
Weight

1.5 kg

Material

Glass/ABS

Accuracy

100 g

Units Measured

kg/lb/st

Min Weight

6 kg

Max Weight

180 kg / 400 lbs / 28 st

LCD Display

Yes

Overload Protection

Yes

Auto On_Off Function

Yes

Battery Type

2 x AAA

BMI

Yes

Body Fat

Yes

Muscle Mass

Yes

Bone Mass

Yes

Body Water

Yes

Dimensions

30 x 30 x 1.5 cm

Model

BS-02W-EU

Batteries Included

Yes

Heart Rate

No

Heart Index

No

Body Balance

No

Skeletal Muscle

No

Visceral Fat

No

Protein

No

BMR

No

Metabolic Age

No

Free Body Weight

No

Subcutaneous Fat

No

Athlete Mode

No

Baby Mode

No

Apple health_google_fit

No

Fitbit

No

Feet

TPU
Weight

1.52 kg

Material

glass/ABS

Accuracy

100 g

Units Measured

kg/lb/st

Min Weight

6 kg

Max Weight

180 kg / 400 lbs / 28 st

LCD Display

Yes

Overload Protection

Yes

Auto On_Off Function

Yes

Battery Type

2 x AAA

BMI

No

Body Fat

No

Muscle Mass

No

Bone Mass

No

Body Water

No

Dimensions

28 x 28 x 2.2 cm

Model

BS-01-EU

Batteries Included

Yes

Heart Rate

No

Heart Index

No

Body Balance

No

Skeletal Muscle

No

Visceral Fat

No

Protein

No

BMR

No

Metabolic Age

No

Free Body Weight

No

Subcutaneous Fat

No

Athlete Mode

No

Baby Mode

No

Apple health_google_fit

No

Fitbit

No

Feet

Silicone
Material

glass/ABS

Accuracy

100 g

Units Measured

kg/lb/st

Min Weight

6 kg

Max Weight

180 kg / 400 lbs / 28 st

LCD Display

Yes

Overload Protection

Yes

Auto On_Off Function

Yes

Battery Type

AAA x 2

BMI

No

Body Fat

No

Muscle Mass

No

Bone Mass

No

Body Water

No

Dimensions

26 x 26 x 1.8 cm

Model

BS-03W-EU

Batteries Included

Yes

Heart Rate

No

Heart Index

No

Body Balance

No

Skeletal Muscle

No

Visceral Fat

No

Protein

No

BMR

No

Metabolic Age

No

Free Body Weight

No

Subcutaneous Fat

No

Athlete Mode

No

Baby Mode

No

Apple health_google_fit

No

Fitbit

No

Feet

TPU