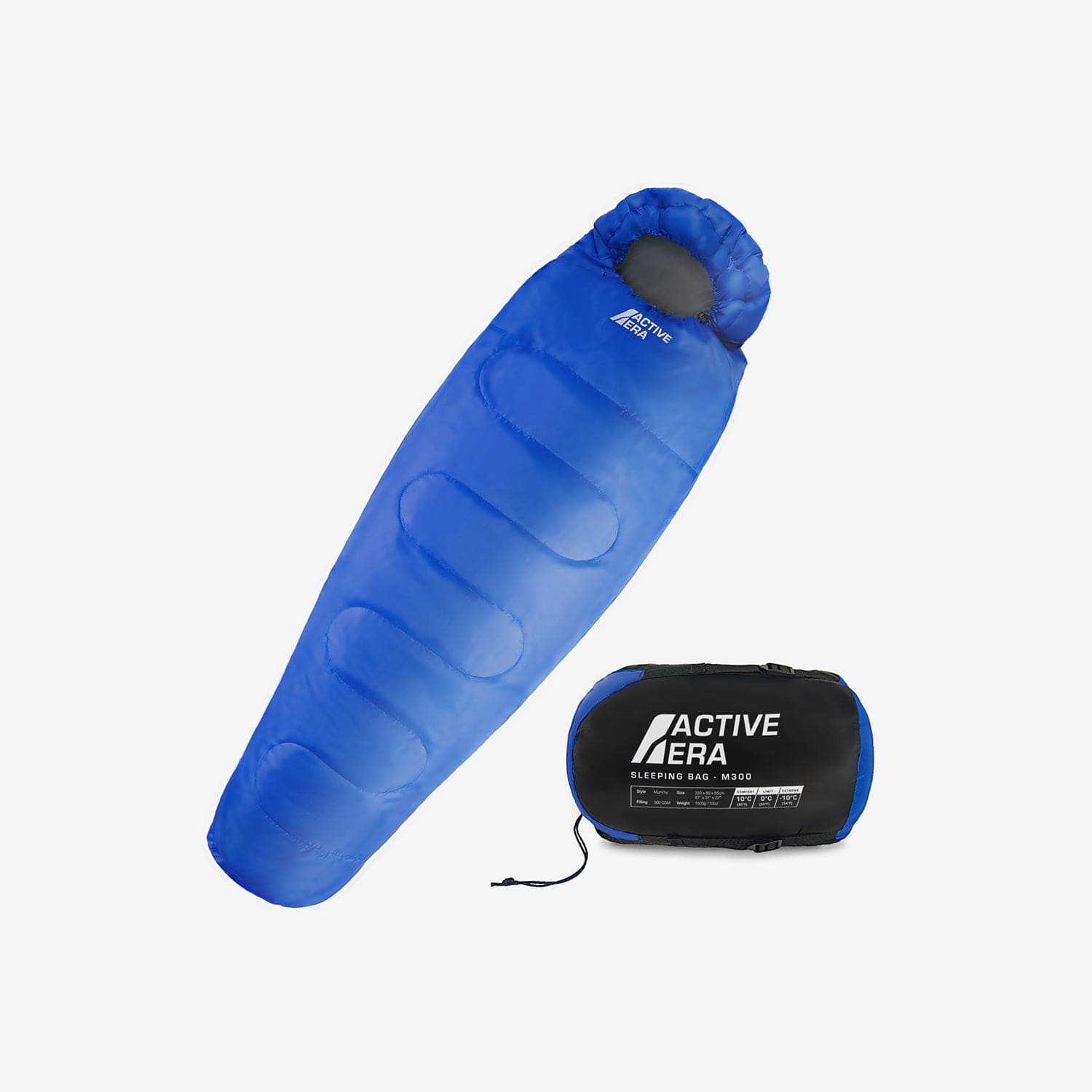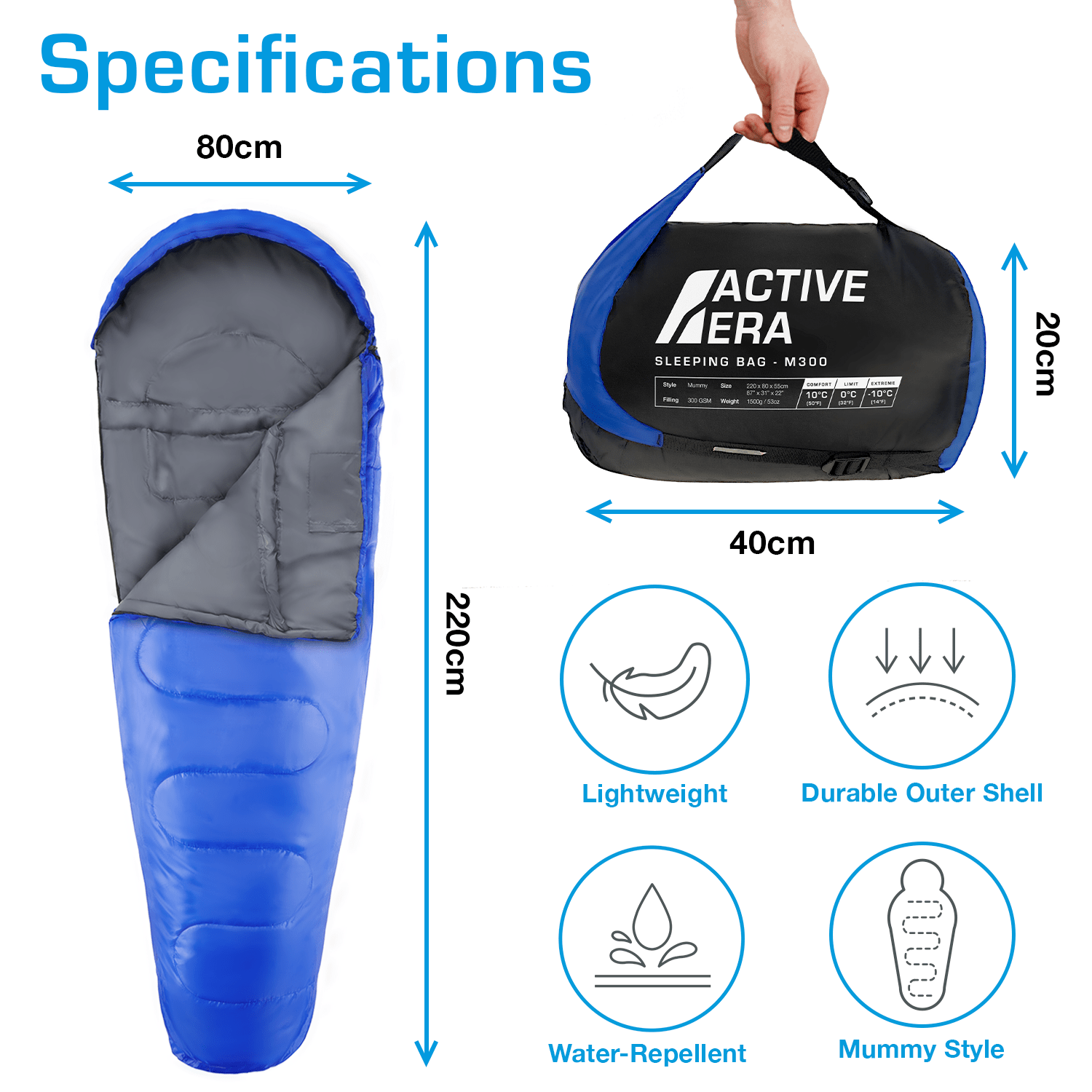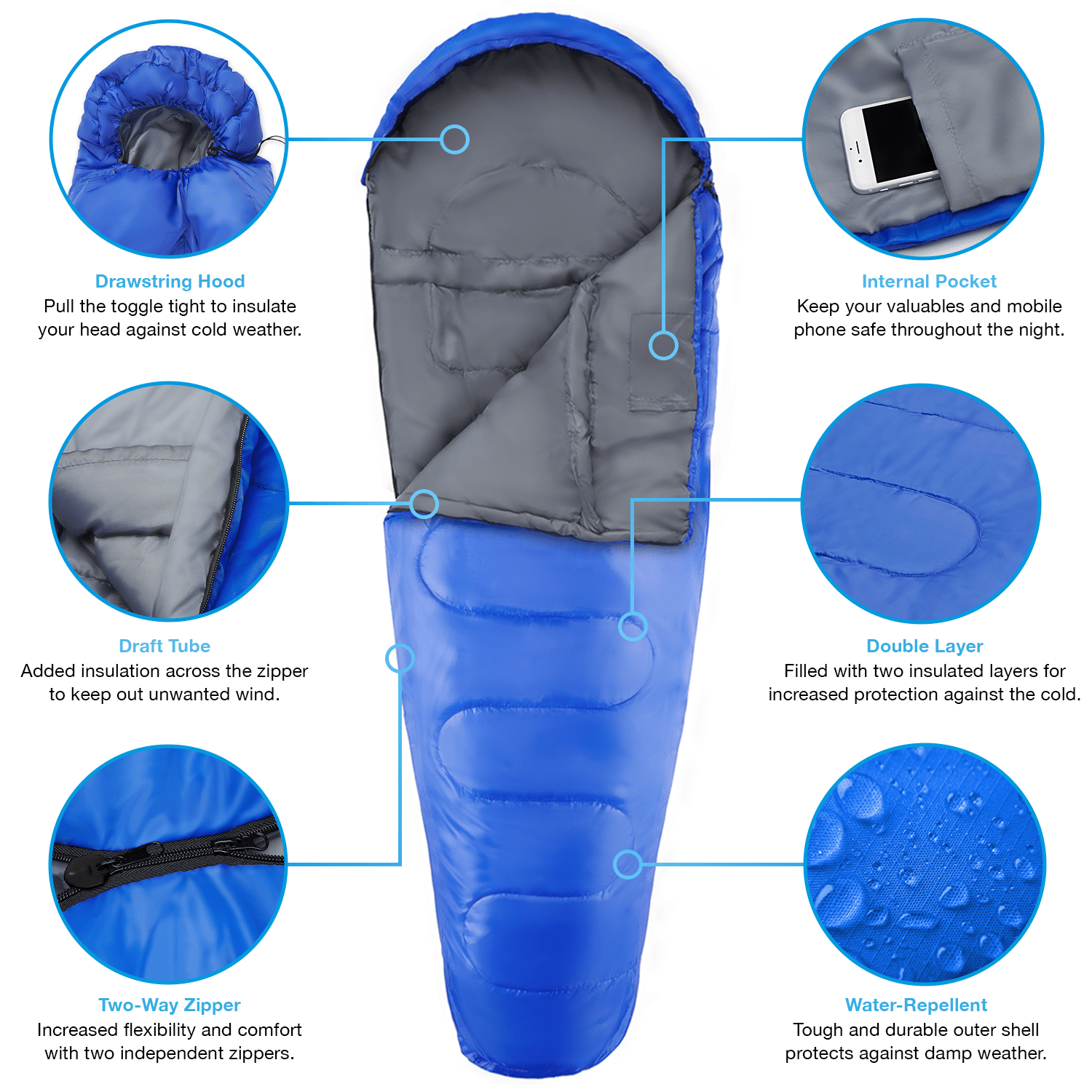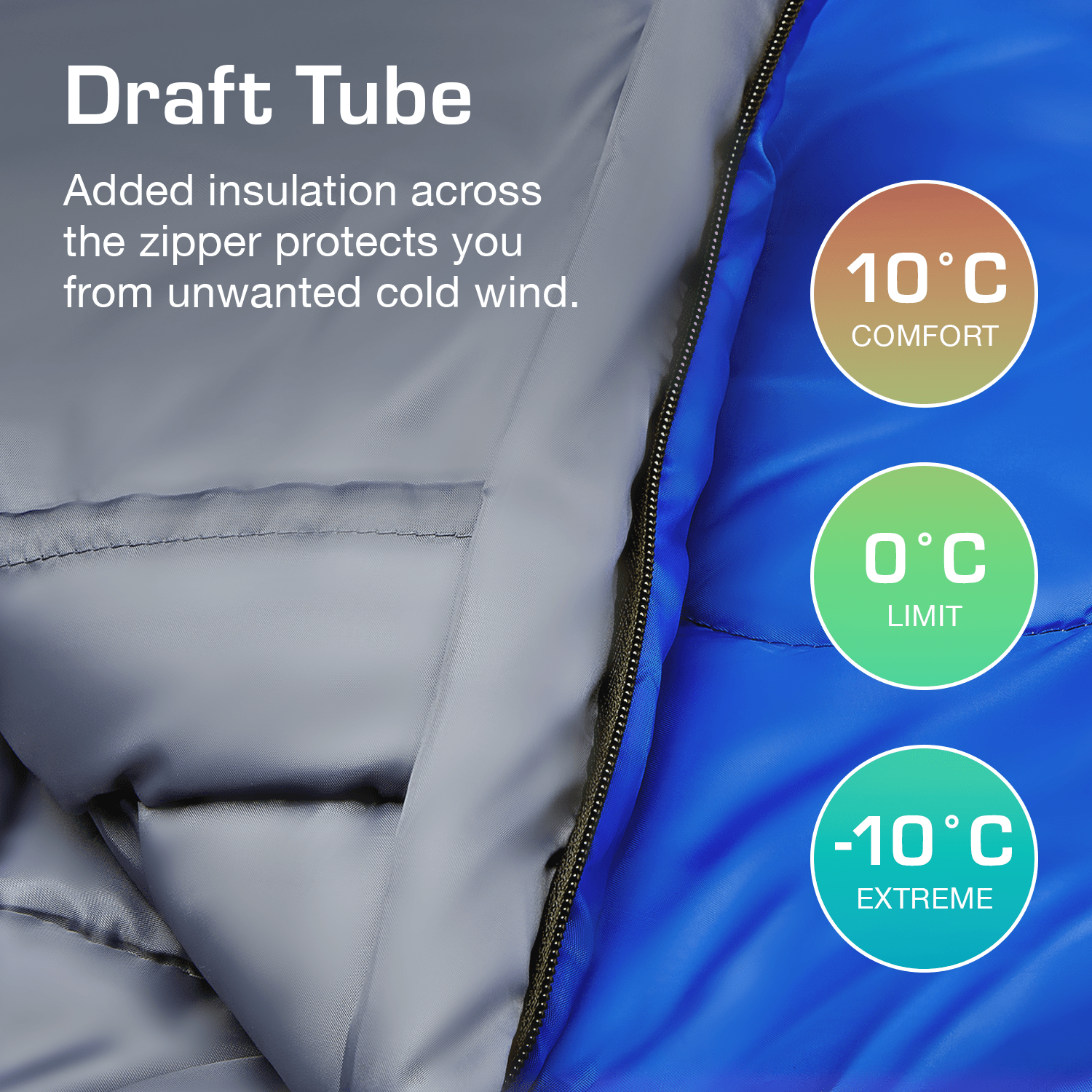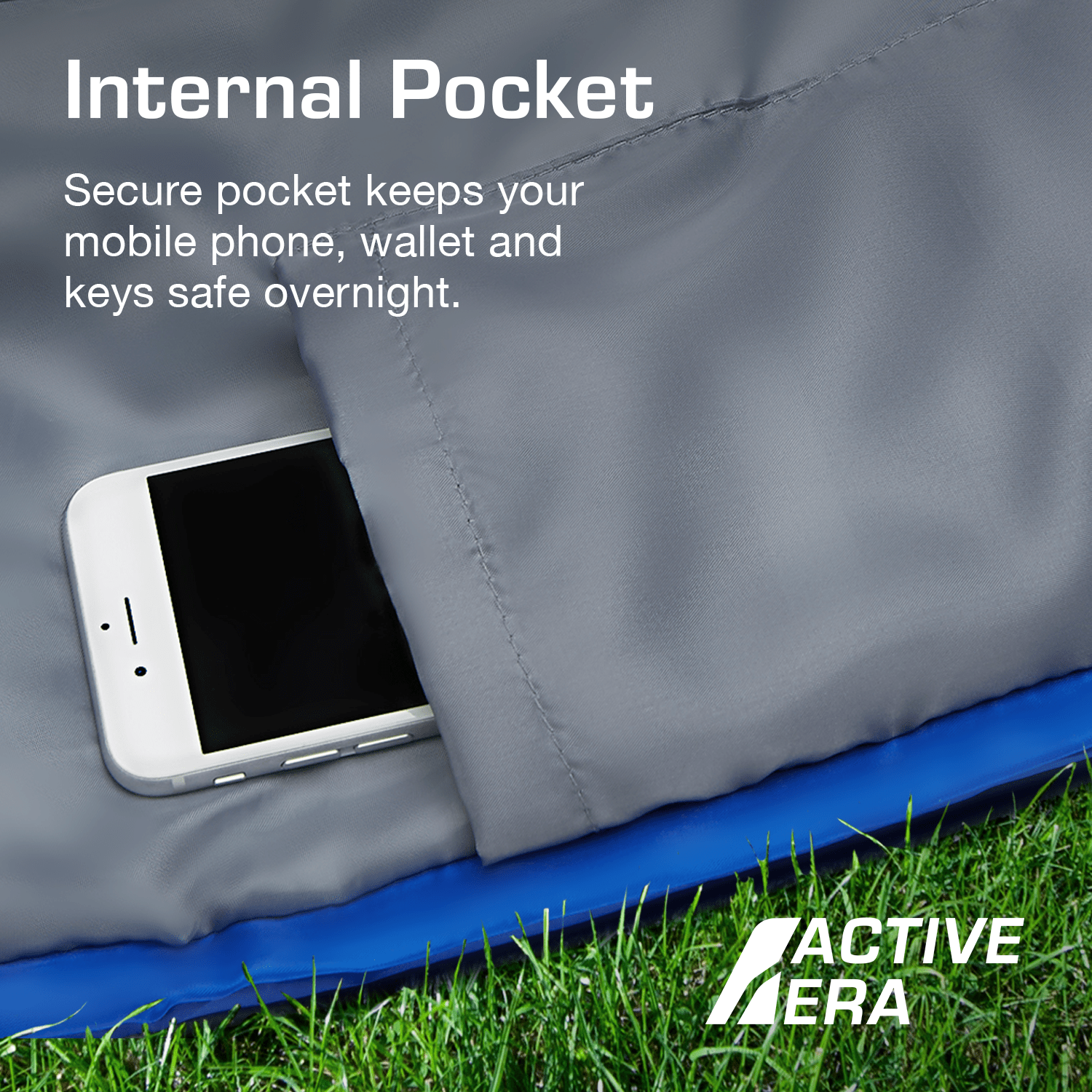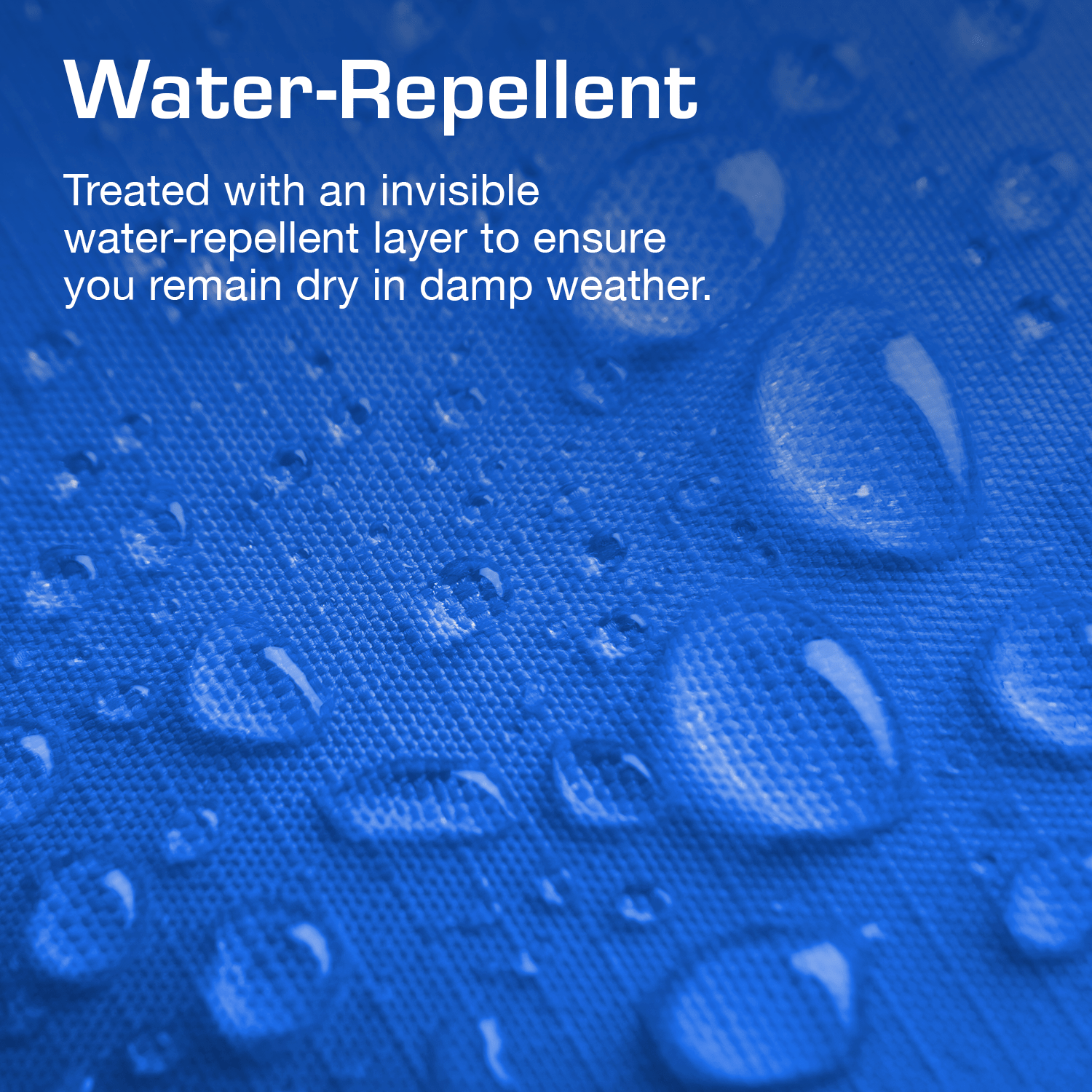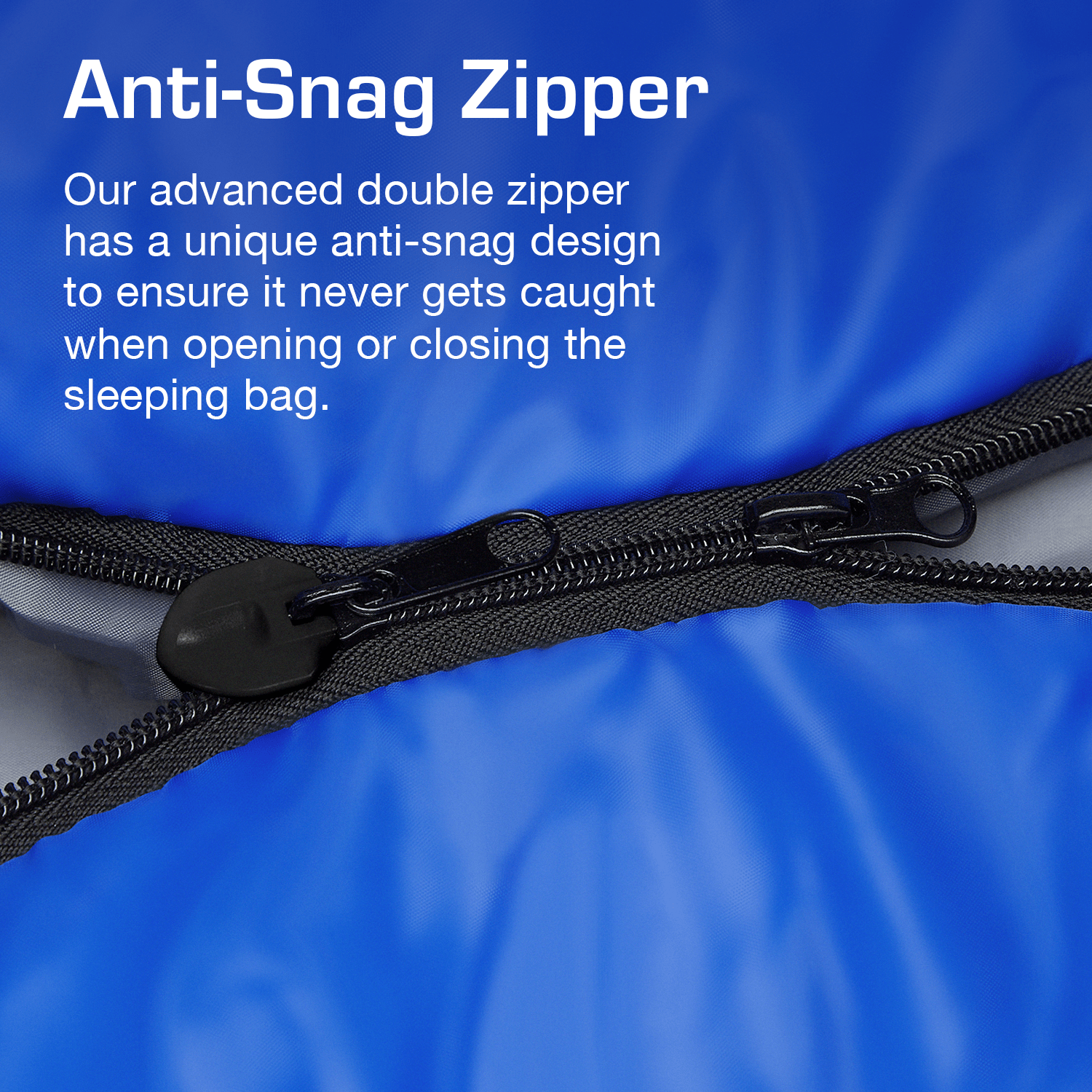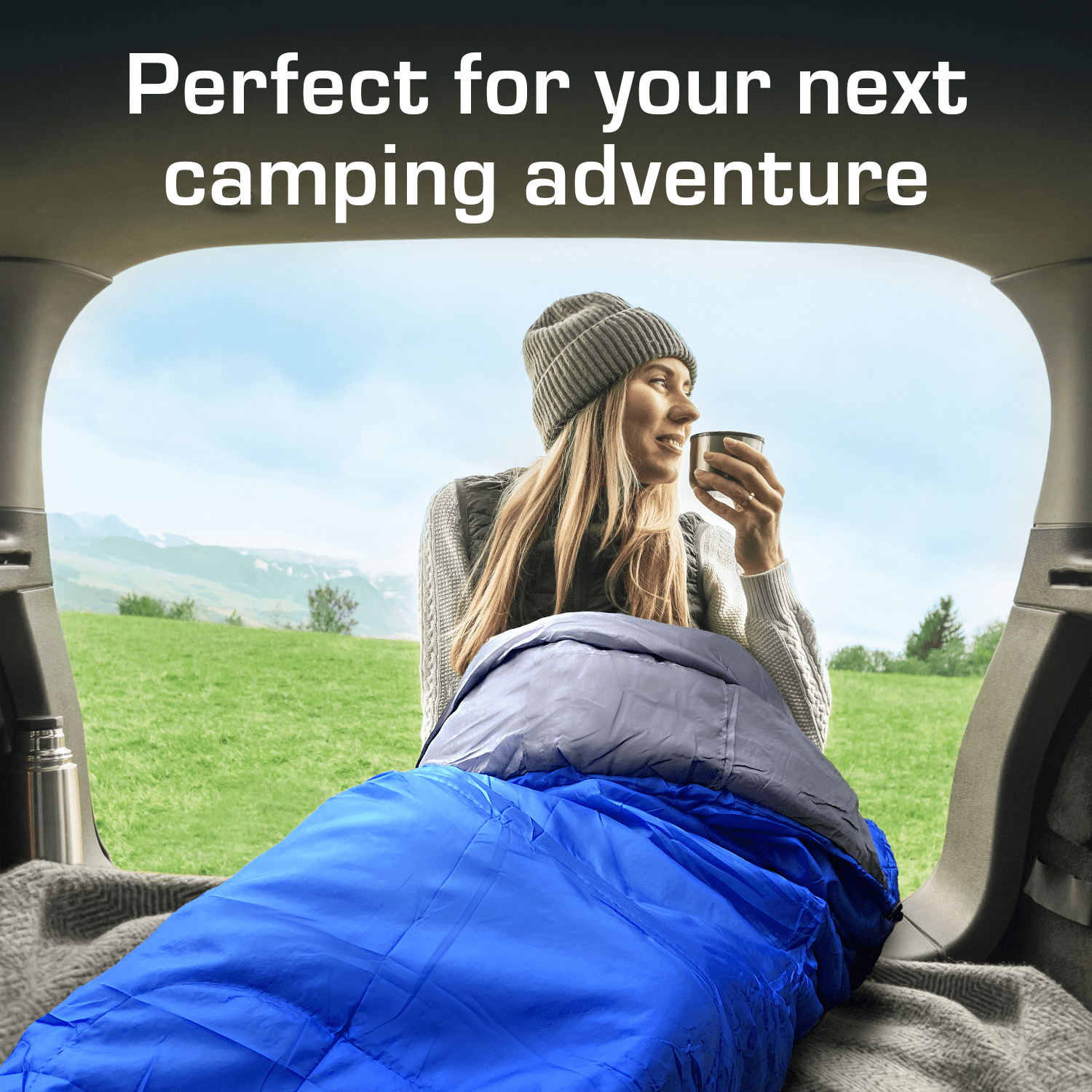 Professional 3-4 Season Mummy Sleeping Bag (300 GSM) - 1 Season
Upgrade your camping trips with this Professional 3-4 Season Mummy Sleeping Bag. Featuring a mummy design for maximum comfort, it has a double-layered construction to keep you warm no matter the weather.
This premium quality, Professional Mummy Sleeping Bag is made from a durable 190T polyester outer shell, with an ultra-warm 300GSM double filling for use throughout the year. Both the compression bag and sleeping bag's outer shell are water resistant in damp environments, and it's fully machine washable too. Instead of a single filling, this professional sleeping bag is packed with a double layer containing 2 x 150g/m² hollow fibre layers, and a drawstring hood. This provides a considerable increase in insulation and warmth compared to a regular single-layered sleeping bag and is ideal for use outside in both winter and summer.
Snug Fit:

 

The mummy-shaped design keeps you snug and comfortable at night.
Stay Warm:

 

The sleeping bag features 300GSM hollow fibre filling to keep you warm in temperatures down to -10°C.
Durable:

 

Crafted with a 190T Polyester outer shell to protect against rips and ensure durability in rough camping conditions.
Wind-Proof:

 

Fitted with an internal drawstring collar and windproof zipper lining for extra protection against the wind.
Travel-friendly:

 

Fits perfectly into the included compression bag to take with you on all your adventures.
Water-Resistant:

 

Don't fear the rainy weather and damp conditions thanks to the water-resistant outer shell
Dimensions Packed

220 x 80 x 55 cm

Type

Mummy

Filling Gsm

300

Water Resistant

Yes

Seasons

Winter

Comfort Temperature Range

10˚C

Limit of Comfort Temperature Range

0˚C

Extreme Temperature Range

-10˚C

Drawstring Hood

Yes

Internal Pocket

Yes

Wind Proof Zipper

Yes

Insulation Tube

Yes

Compression Straps

Yes

Ripstop

No

Material Shell

190T Polyester Waterproof

Material Liner

190T polyester

Material Filling

150 GSM*2 Polyester

Dimensions

220 x 80 x 55 cm

Model

SB-M300-EU
Compare with similar items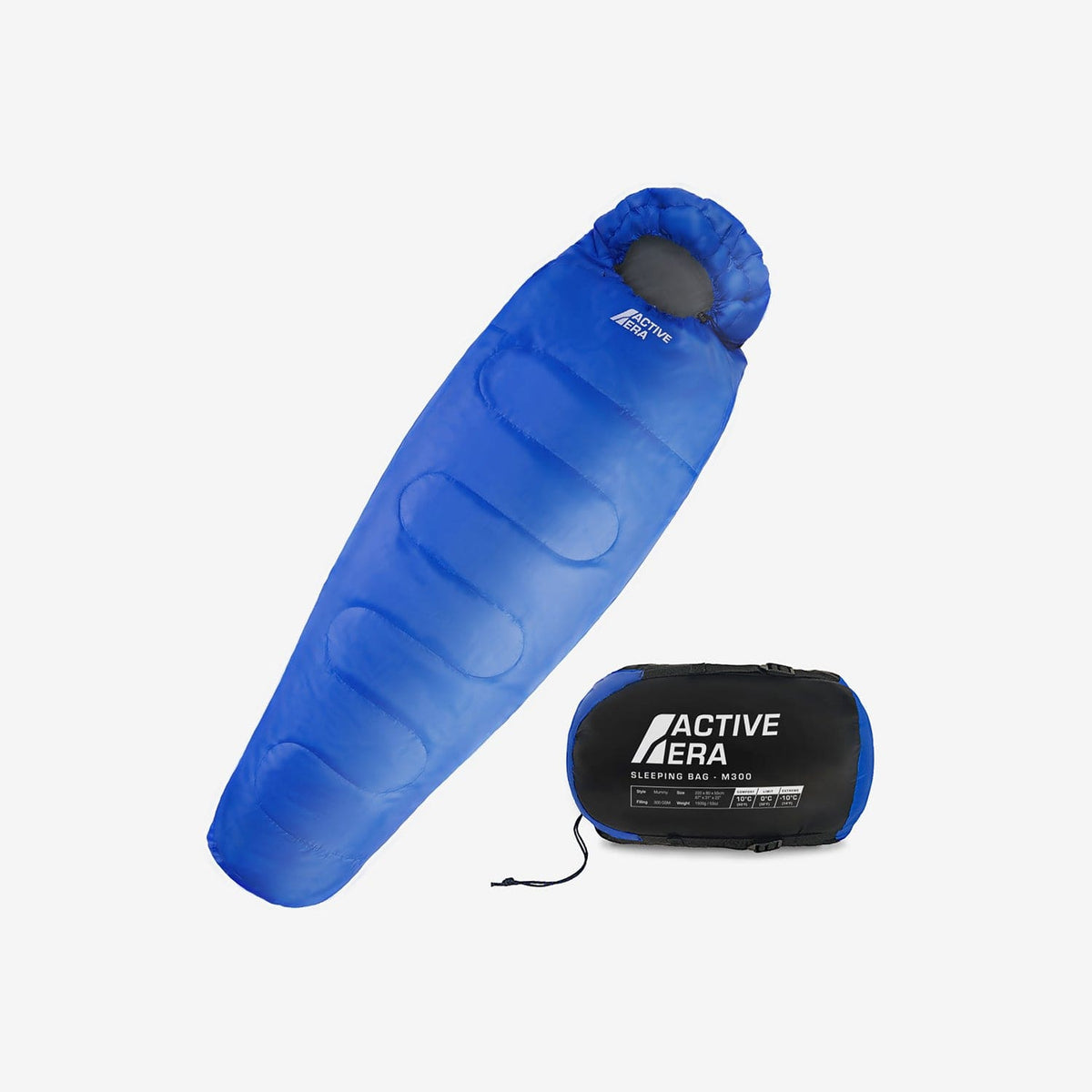 Dimensions Packed

220 x 80 x 55 cm

Type

Mummy

Filling GSM

300

Water Resistant

Yes

Seasons

Winter

Comfort Temperature Range

10˚C

Limit of Comfort Temperature Range

0˚C

Extreme Temperature Range

-10˚C

Drawstring Hood

Yes

Internal Pocket

Yes

Wind Proof Zipper

Yes

Insulation Tube

Yes

Compression Straps

Yes

Ripstop

No

Material Shell

190T Polyester Waterproof

Material Liner

190T polyester

Material Filling

150 GSM*2 Polyester

Dimensions

220 x 80 x 55 cm

Model

SB-M300-EU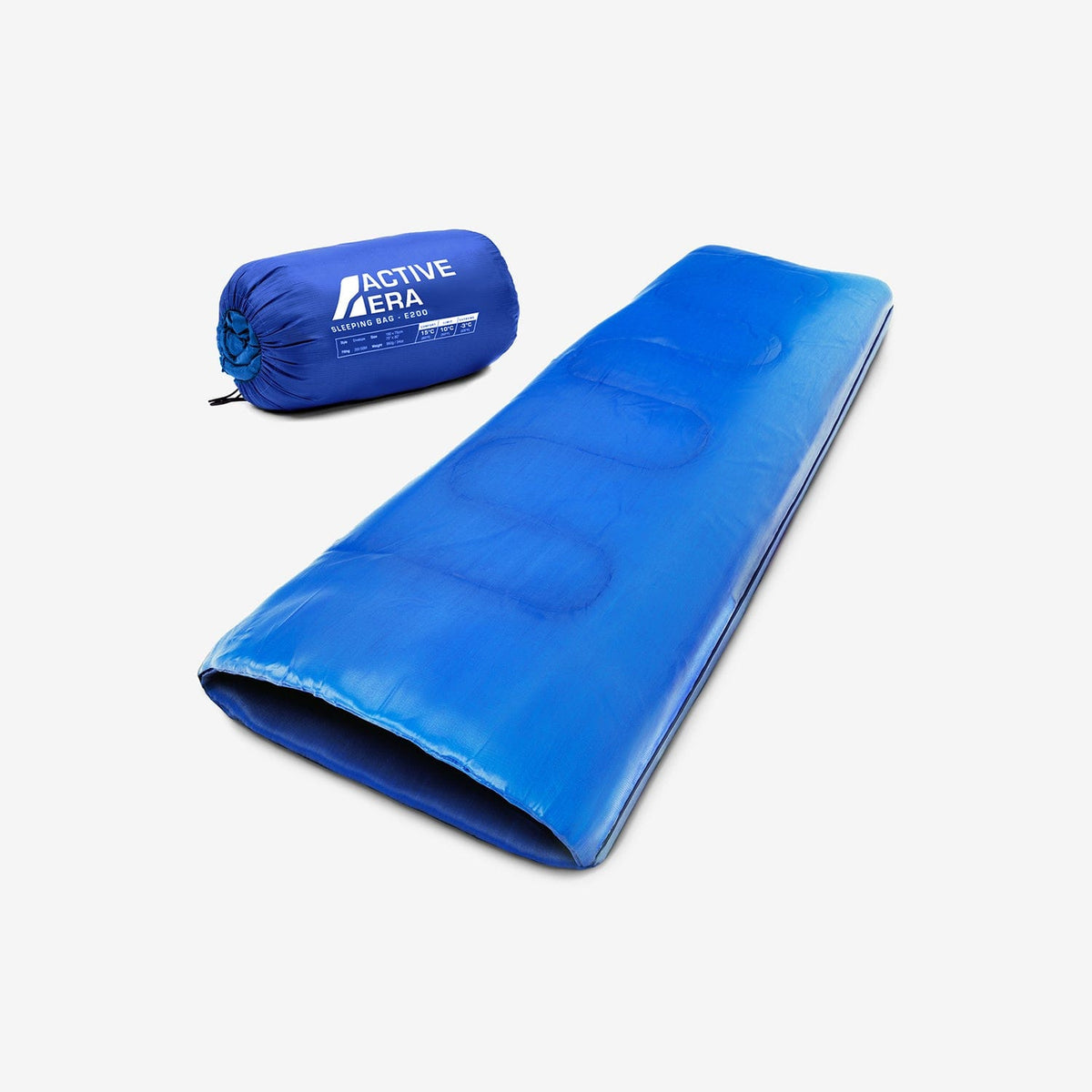 Dimensions Packed

35 x 20 x 20 cm

Type

Envelope

Filling GSM

200

Water Resistant

No

Seasons

Spring/Autumn

Comfort Temperature Range

15˚C

Limit of Comfort Temperature Range

10˚C

Extreme Temperature Range

-3˚C

Drawstring Hood

No

Internal Pocket

No

Wind Proof Zipper

No

Insulation Tube

No

Compression Straps

No

Ripstop

No

Material Shell

190T Polyester

Material Liner

190T Polyester

Material Filling

200GSM Polyester

Dimensions

186 x 75 cm

Model

SB-E200-EU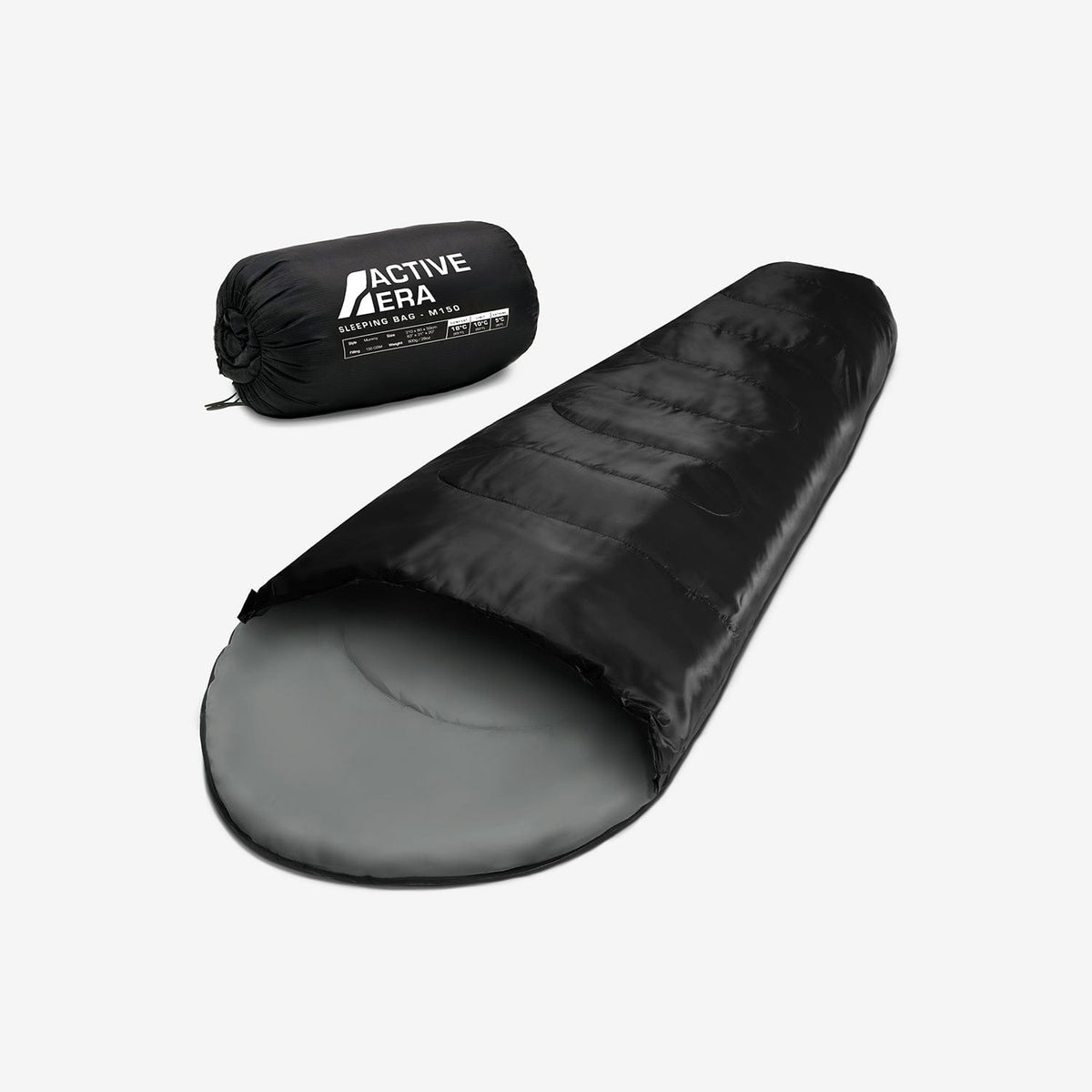 Dimensions Packed

35 x 19 x 17 cm

Type

Mummy

Filling GSM

150

Water Resistant

No

Seasons

Spring/Autumn

Comfort Temperature Range

18˚C

Limit of Comfort Temperature Range

10˚C

Extreme Temperature Range

5˚C

Drawstring Hood

No

Internal Pocket

No

Wind Proof Zipper

No

Insulation Tube

No

Compression Straps

No

Ripstop

No

Material Shell

190T Polyester

Material Liner

190T Polyester

Material Filling

150 GSM Polyester

Dimensions

210 x 80 x 50 cm

Model

SB-M150-EU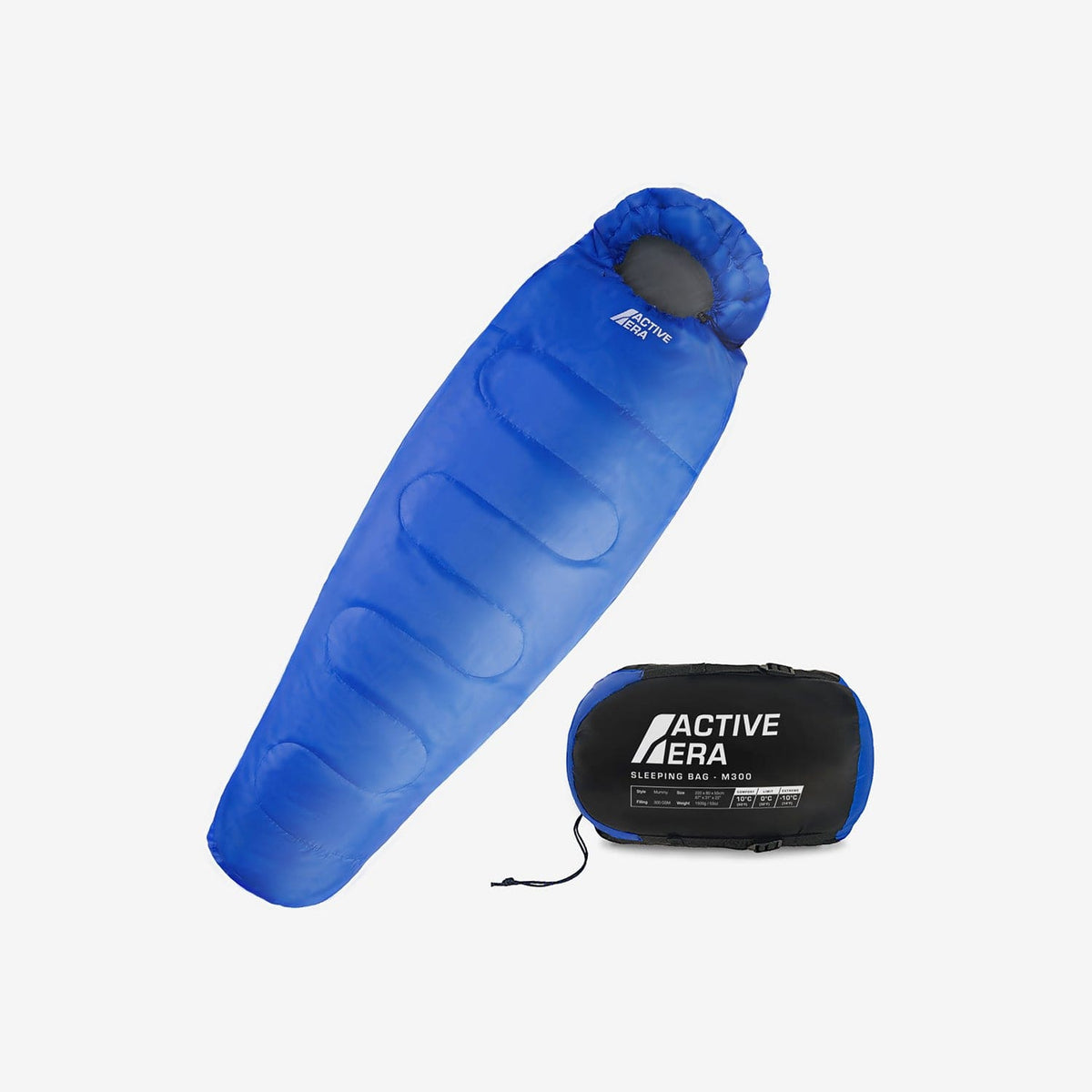 Dimensions Packed

220 x 80 x 55 cm

Type

Mummy

Filling GSM

300

Water Resistant

Yes

Seasons

Winter

Comfort Temperature Range

10˚C

Limit of Comfort Temperature Range

0˚C

Extreme Temperature Range

-10˚C

Drawstring Hood

Yes

Internal Pocket

Yes

Wind Proof Zipper

Yes

Insulation Tube

Yes

Compression Straps

Yes

Ripstop

No

Material Shell

190T Polyester Waterproof

Material Liner

190T polyester

Material Filling

150 GSM*2 Polyester

Dimensions

220 x 80 x 55 cm

Model

SB-M300-EU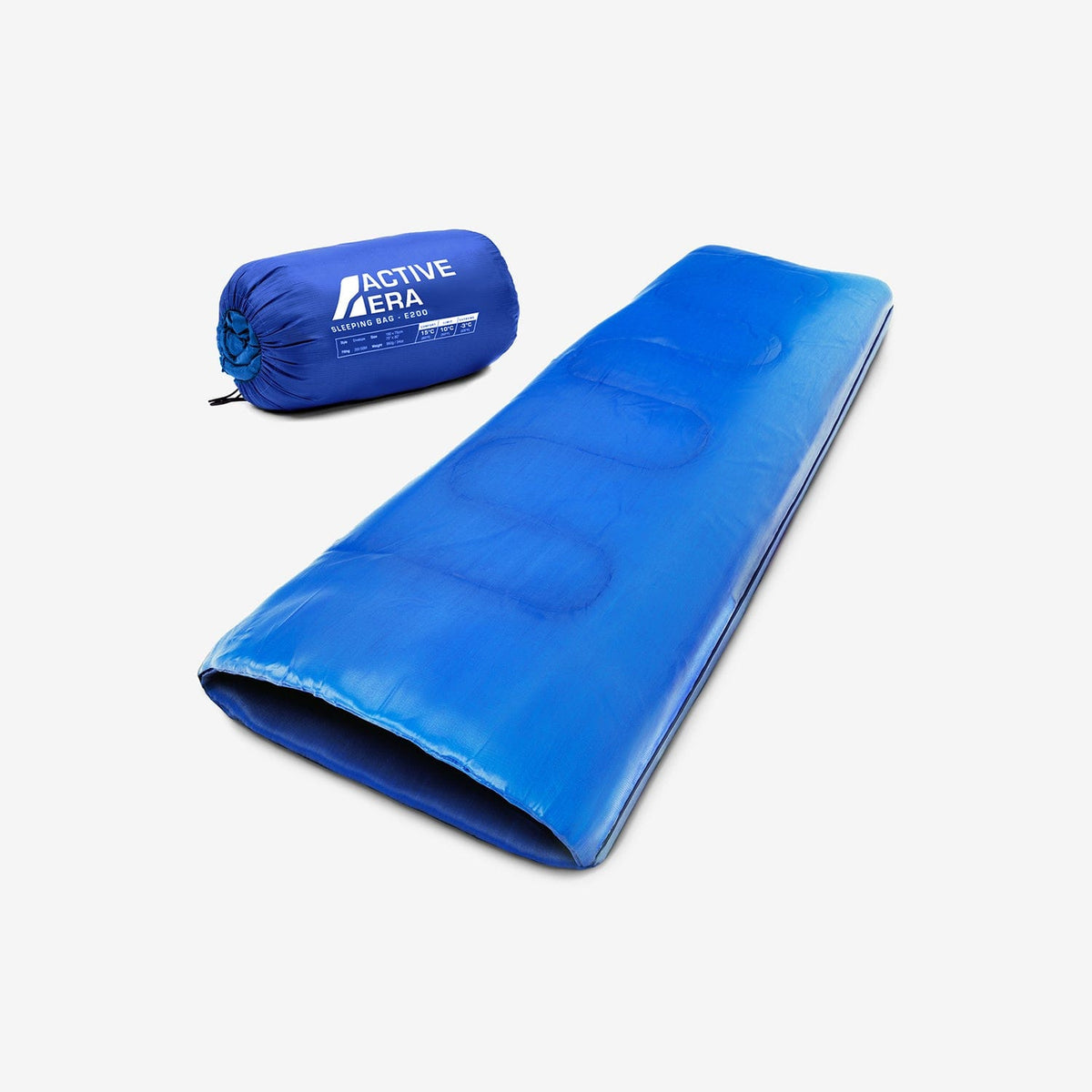 Dimensions Packed

35 x 20 x 20 cm

Type

Envelope

Filling GSM

200

Water Resistant

No

Seasons

Spring/Autumn

Comfort Temperature Range

15˚C

Limit of Comfort Temperature Range

10˚C

Extreme Temperature Range

-3˚C

Drawstring Hood

No

Internal Pocket

No

Wind Proof Zipper

No

Insulation Tube

No

Compression Straps

No

Ripstop

No

Material Shell

190T Polyester

Material Liner

190T Polyester

Material Filling

200GSM Polyester

Dimensions

186 x 75 cm

Model

SB-E200-EU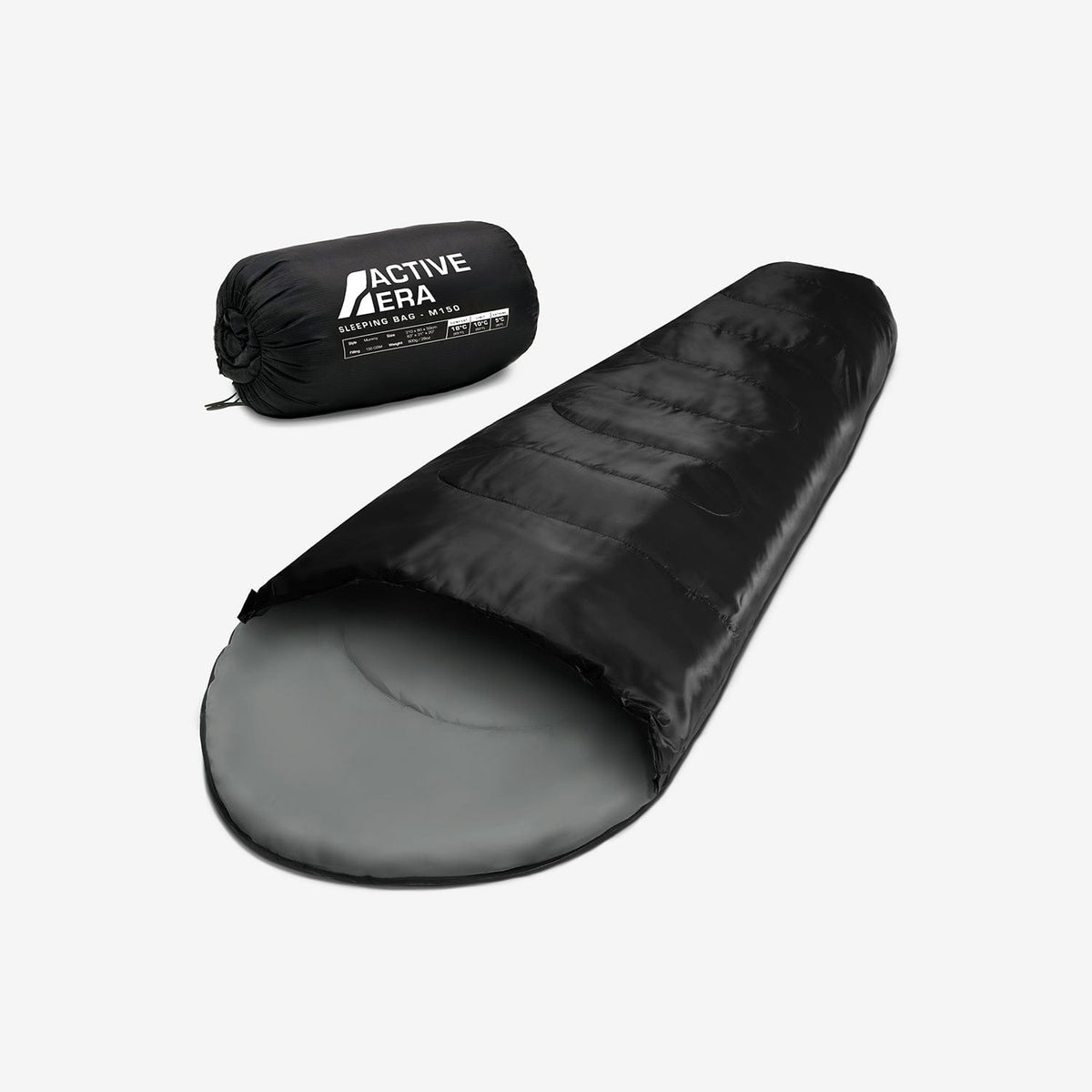 Dimensions Packed

35 x 19 x 17 cm

Type

Mummy

Filling GSM

150

Water Resistant

No

Seasons

Spring/Autumn

Comfort Temperature Range

18˚C

Limit of Comfort Temperature Range

10˚C

Extreme Temperature Range

5˚C

Drawstring Hood

No

Internal Pocket

No

Wind Proof Zipper

No

Insulation Tube

No

Compression Straps

No

Ripstop

No

Material Shell

190T Polyester

Material Liner

190T Polyester

Material Filling

150 GSM Polyester

Dimensions

210 x 80 x 50 cm

Model

SB-M150-EU